From: guest (Bobmoz123) , 36 months, post #1
Anyone know of any bodyswap media where they make the woman wear some leather or latex ? I know of Special Unit 2 and Buffy, some Javs aswell but just wondered if anyone's stumbled across any good media with it in?


From: guest , 36 months, post #2
Do you know which episode for special unit 2 and buffy?


From: guest (Bobmoz123) , 36 months, post #3
Post #2 yeah the SU2 ep is called "the grain" and the buffy ep is called "who are you?" Both are pretty hot.


From: guest (guest) , 36 months, post #4
how bout Batman Beyond ep 'Out of the Past' , can be considered a possession since the original body was long dead.


From: guest (Jamjackroll) , 30 months, post #5
Try "come back alive" episode 6 part 3 on YouTube. Pretty decent scene of a body swapped guy dressed in leather trying to show his/her seduction skills but ends up stuck in the pants. Anyone know of any more R rated clips or stories like this?


From: guest (Goonjustabit) , 30 months, post #6
I can remember there was a clip on pornhub last year of a man waking up as a girl he knew then checking her wardrobe, finding leather pants and putting them on. It doesn't seem to be on there now though and I can't remember the name at all. Someone might be able to help.


From: guest (Dreadnaught) , 30 months, post #7
Wish upon a star - has a sister body swap and dress up in latex to humiliate her younger sister.


From: guest (Blacksquid) , 30 months, post #8
surely theres some stories on Fictionmania? I know on writing.com "the transplant" a boy swapped into a strippers body wears some pvc and leather. It's a shame it wasn't continued though


From: guest (Noonehome) , 30 months, post #9
From Beyond movie has a female possession/mind control and dresses her up in bdsm gear


From: guest (Yougetgold) , 30 months, post #10
There was a YouTube clip from what looked to be a Korean movie where an evil wizard possessed a guys girlfriend. Basically makes her evil and dresses her in leather. She goes in and wakes the guys up in their college dorm room. Looks like the movie is now off of YouTube though so I don't know if anyone might be able to help.


From: guest (Eric) , 30 months, post #11
James has in his wonderful Quarintine Bodyswaps has one with a goth/Dominix

https://www.youtube.com/watch?v=SDTNzGWa1wY&t=304s

Also if you want a very good story involving a Dominix Morpheus has one on Fictionmania 'The Bitch


From: guest (TheFlash) , 30 months, post #12
The prior season of The Flash had the Thinker take over several female bodies. He liked dressing his female form in tight black leather pants. And while they didn't show it, it was clear he was using the bodies for sex with his girlfriend scientist.


From: guest (Scorned) , 30 months, post #13
The Charmed episode called "Cayote Piper". Piper the prude gets possessed by some girl and gets dressed in a red vinyl top and black leather pants. Goes to her school reunion and does a sexy bar dance in Piper's body.


From: guest (Notbigfoot) , 30 months, post #14
Come to think of it, it's a bit hard to come by adult movies/stories where they dress the woman up to flaunt her assets. They should do some where it's a prude whose body swapped/ possessed and then dresses and acts like a wild child, of course seeing a rub and a booty slap in leather pants would be all the more sweeter.


From: guest (LadyCopy) , 30 months, post #15
There's a porn body swap where a guy is being pursued by a lady cop who is wearing leather / spandex pants. He swaps with her and has fun checking himself out and more.



From: guest (Notyou) , 30 months, post #16
@LadyCopy do you have a name or link to it??


From: guest (LadyCop) , 30 months, post #17
There are two by Mandy Flores. One where she is the cop and one where the bad guy is a burglar. Search on SB for Mandy Flores body swap and they'll pop up. You'll have to pay to get the full versions, but the versions on SB do provide most of the content.


From: guest (Godkingdoom) , 30 months, post #18
@ladycop I know what you're on about but she isn't wearing any leather in those videos, her pants are normal cotton? And the burglar video I assume it's the one where the robber possesses the other in leather leggings? That's not actually Mandy Flores...


From: guest (Choa Park) , 30 months, post #19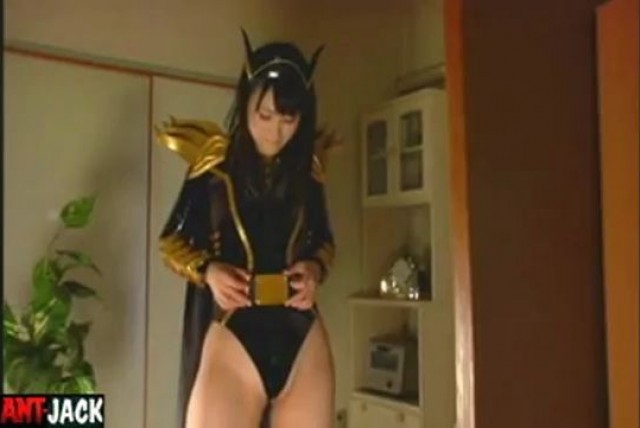 This one starts with a person trying on a leather/latex and then being possessed and corrupted into evil.


Lookup: GOOD HEROINE TURNED EVIL BLCK DRSS TMPT 4 UNCNSRD
It's great.


From: guest (Choa Park) , 30 months, post #20
To clarify this is a JAV... and there is a whole series of them, though this is the only one I actually like so far.